Dengue Fever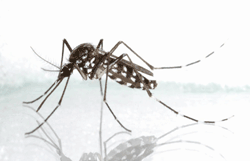 Aedes albopictus
(Acknowledgement: Pest Control Advisory Section, Food and Environmental Hygiene Department)
What is Dengue fever?
Dengue Fever is an acute viral disease characterized by sudden onset of fever for 3-5 days, with intense headache, joint and muscle pain, pain behind the eyes, nausea, gastrointestinal disturbances and rash. Minor bleeding, such as gum and nose bleeding, may occur at any time during the febrile phase. Children usually have a milder disease than adults. The incubation period is 3 to 14 days. Recovery may be followed by prolonged fatigue and depression. Occasionally, the disease may progress to Dengue Heamorrhagic Fever (DHF) with bleeding and shock, leading to death. Travellers to tropical countries, especially in Southeast Asia and Latin America, may be at risk of dengue infection. Epidemics usually occur during and shortly after the rainy season.

How does it spread?
Dengue virus is transmitted to human by mosquitoes, especially Aedes aegypti and Aedes albopictus. This is a day-biting species with increased biting activities for 2 hours after sunrise and several hours before sunset. Patients are usually infective for mosquitoes from shortly before to the end of the febrile period, an average of about 6-7 days. It cannot be directly transmitted from person to person.

How can you prevent it?
At present, there is no effective vaccine for dengue, so travellers must rely on preventing mosquito bites to combat infection (especially during their high biting activity time). The personal protection measures against mosquito bites are as follows:
Wear long-sleeved shirts and trousers;
Rest in air-conditioned or well-screened rooms;
Use aerosol insecticide indoor and use bednets if sleeping areas are not air-conditioned or screened.
Use insect repellents containing DEET (for children keep DEET concentration below 20%) on exposed skin;
If travelling in endemic rural areas, carry a portable bed-net and apply permethrin on it as well as to clothes.

How is it treated?
Anyone returning from travel to a dengue-infected area and then falling sick within one month, especially with bleeding signs, should seek medical assistance immediately. High fever should be treated by sponging and the appropriate use of paracetamol. Do not take aspirin because they can lead to bleeding and cause stomach irritation. There is no specific treatment available for treating DHF. Supportive measures have to be provided in hospital.
Dengue fever reporting in different areas of the world, 2007
Countries/Areas
07 Reported number
08 Reported number
08 Update
Source
Asia
Bangladesh
 ;
Bhutan
 ;
Cambodia
40,000 (407)
13 Jan
ProMED
China
Mainland
544
7
11 Mar
P.R. China MoH
Hong Kong
58**
14**
29 May
HKSAR DH
Macau
14
2**
27 May
Macao Health Bureau
Taiwan
3,553
218
21 May
Taiwan CDC
India
ADSNet
Indonesia
160,000(1,101)
2,396*(41)
13 May
ProMED
Japan
89
16**
28 Apr
Taiwan CDC
Lao
581(3)
25 May
ProMED
Malaysia
31,279(67)
9,889* (26)
14 Apr
ProMED
Myanmar
11,577(98)
ProMED
Nepal
ProMED
Pakistan
1,527*(11)
ProMED
Philippines
24,689(283)
9,555*(111)
19 Mar
ProMED
Saudi Arabia
342
16
30 Jan
ProMED
Singapore
8,826(3)
2,120
26 May
Singapore MoH
Sri Lanka
47
34(3)
18 Feb
ProMED
Thailand
62,999 (90)
13,943(16)
26 May
Taiwan CDC
Timor-Leste
 ;
Vietnam
80,000(68)
10,000
25 Mar
Singapore MoH
Yemen
 ;
North America
Mexico
40,599(10)
10,680
14 May
PAHO
USA
488
23 Jan
PAHO
South America
Argentina
173
28
14 May
PAHO
Bolivia
6,677 (1)
730(0)
14 May
PAHO
Brazil
561,495 (225)
230,829*(130)
14 May
ProMED
Colombia
42,536 (19)
9,061(3)
14 May
PAHO
Ecuador
10,753(5)
1,894
14 May
PAHO
French Guiana
661
23 Jan
PAHO
Paraguay
28,182 (17)
1,953
14 May
PAHO
Peru
6,907 (2)
6,434
14 May
PAHO
Venezuela
82,000(42)
206,041
14 May
PAHO
Central America and Caribbean Sea
Barbados
255
24 Oct ;
ProMED
Costa Rica
26,440(8)
2,299
14 May
PAHO
Dominican Republic
9,349 (46)
598(3)
14 May
PAHO
El Salvador
12,360
1,507
14 May
PAHO
Guatemala
5,886 (4)
12 Jan
PAHO
Honduras
33,508(8)
2,254
14 May
PAHO
Nicaragua
1,564 (11)
105(1)
14 May
PAHO
Panama
3,402
101
7 Apr
PAHO
Puerto Rica
11,012(9)
1,168
14 May
PAHO
Trinidad and Tobago
31
608
6 Mar
ProMED
Guadeloupe
19,200(3)
7 Apr
ProMED
Martinique
5,082(4)
23 Jan
PAHO
Jamaica
1,443(18)
106
7 Apr
PAHO
Oceania
Australia
322
192
31 May
Australia MoH
Palau
16
26 Feb ;
ProMED
Cook Islands
700
ProMED
Micronesia
6*
ProMED
Figures in bracket: reported death numbers.
** Imported cases
* Cases in parts of the country
Abbreviations:
ADSNet
Association of South East Asian Nations Infectious Diseases Outbreak Surveillance Network
CDC
Centre for Disease Control
DoH
Department of Health
MoH
Ministry of Health
PAHO
Pan American Health Organisation
ProMED
Program for Monitoring Emerging Diseases
WHO
World Health Organization
Disclaimer
The information provided by the Government of the Hong Kong Special Administrative Region ("the Government") on this website is for reference only. Whilst the Government endeavors to ensure the accuracy of the information on this site, no expressed or implied warranty is given by the Government as to the accuracy of the information.
Updating in this web site is carried out as soon as new information is available. However, there is no warranty or responsibility of any kind on providing accurate information and data at a particular point of time.
The Government shall not be liable for any claim, loss or damage incurred in relation to or as a result of the use of the information on the website.